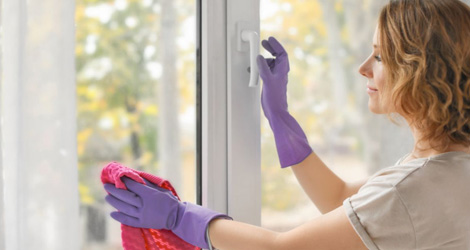 Clean windows with no stains and spills can make a huge difference in enhancing the appeal of your property's interiors as well as exteriors. By choosing Dust-A-Move Cleaning Services, we can assure you that you will have professional people working for you to satisfy your window washing needs.
Our goal is to provide you with the best service in residential and commercial window washing. Whether they are at work or at home, you can rest assured that your windows will be cleaned by an insured professional cleaner who is working to high standards.
What We Do?
Dusting of window sills
Cleaning shutters
Cleaning of window frames
Cleaning of windows
Our cleaners at Dust-A-Move Cleaning Services in the GTA use the best cleaning techniques along with modern equipment to ensure a spotless finish for your windows. We also use industry-standard cleaning detergents to ensure a safe and chemical-free clean service.
Our services extend from homes to commercial & industrial workplaces. No matter how dirty, disfigured, or out of reach your windows may be, we've got the right solution for you.
Call Us To Get A Free Cleaning Estimate!