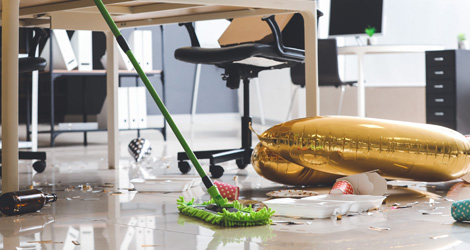 The before and after effects of having an event can be quite tedious such as dirty and soiled carpets and stained sofas and upholstery. Seeing the mess gives you additional stress and pressure. To relieve yourself from this, give our professional cleaners at Dust-A-Move Cleaning Services a call.
We are specialized in cleaning different types of places, whether that would be big or small premises. This includes sports halls, wedding halls, birthday venues, baby shower events and many more. We work before, during and after events to keep the venue clean throughout and work efficiently to get your venue back to normal after your event.
Our Post Event Cleaners Can Help With
Vacuuming and dusting surfaces
Cleaning and sanitizing bathrooms and toilets
Systematic cleaning of appliances
Cleaning of all cupboards in the kitchen
Washing and cleaning of floors
Polishing mirrors and windows
Wiping walls and windows
Cleaning all types of kitchen surfaces
Expert Event Cleaning Team At Your Service
With years of event cleaning experience, we carry out both pre-event and post-event cleaning services in the best possible way. Our cleaners are local and available at any time convenient for you, before, after, and even during the events. They are very responsible, flexible, well-mannered and professionally equipped. Some reasons to choose us are:
Fully flexible after event cleaning
Superior cleaning – reasonably priced
Trained, reliable and friendly cleaners
100% client satisfaction guarantee
Call To Know About Our Cleaning Estimate!